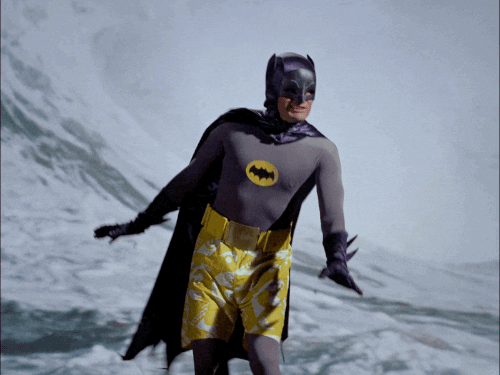 Hey 3.5 readers.
BQB here.  You know, after a while, I decided I wasn't going to write about every celebrity's death.  Unfortunately, they happen often, and talking about it just makes me sad.
But this is a nerd blog and Adam West is an icon to nerds everywhere.
When I was a kid, I loved Batman.  The Michael Keaton Batman movie came out in 1989 and I became obsessed with the idea that maybe a man could become a superhero without any superpowers but rather, just a lot of money and training.
The training would be easy to find, I thought, and what kid doesn't automatically assume that he's going to be a billionaire the second he becomes an adult?
Oh well.  My Batman plan didn't pan out, although I did become the owner of a blog read by 3.5 readers, so I'd say I broke even.
After school, I would watch reruns of the old 1960s Batman TV show.  I'm not sure as a kid I got the humor.  The writing seemed hacky and even as a boy I remembered scratching my head and thinking, "Bat Shark Repellant?  Really?"
I also was incredibly confused as to why every episode ended on a cliffhanger where Batman and Robin would be put into some kind of intricate killing device set up by the evildoer, only to easily break free in the next episode.  One wonders why the villain just didn't pull out a gun and blast the Caped Crusader and the Boy Wonder, but I suppose that would have been anti-climactic.
All I know is that even though you knew they were going to get free, that dramatic voice announcer asking "Will Batman escape this time?  Tune in next week, same bat time, same bat channel" always got me to tune in to the same Bat channel at the same bat time.
But I loved the show, the bright colors, how it looked like a comic book had been brought to life, complete with the "Biffs" and "Pows" flashing on screen during every Batman vs. henchmen scene.
It was only as an adult that I realized a) the writers were goofing on the comic book genre and b) it was the 1960s, a time when adults were expected to put away childish things and comic books were considered the ultimate in silly kid stuff.  Attempts to portray Batman as a serious crimefighter would have fallen flat.  Therefore, the only way Batman could have succeeded was as a wacky, campy show for kids.
Adam West played the role perfectly, being very serious as Bruce Wayne/Batman, saying ridiculous things in a completely deadpan style, as if you were the one who is an oddball for thinking it is weird that Batman keeps a hefty supply of Bat Shark Repellant on hand at all times.
In later years, Adam West found a resurgence as his fans got older themselves.  He was cartoon-ized as the Mayor of Quahog, Rhode Island on Family Guy, again called upon to say things that are hysterical in a voice that says, "I don't think the Mayor realizes this is hysterical."
One thing to keep in mind is that without the 1960s Batman show, all subsequent Batman films and possibly other comic book superhero films, TV shows may not have ever happened.  The Hollywood suits had to be shown that comic book fans would follow their favorite characters to TV and film, and West paved the way.
He will be missed.